Tara National Park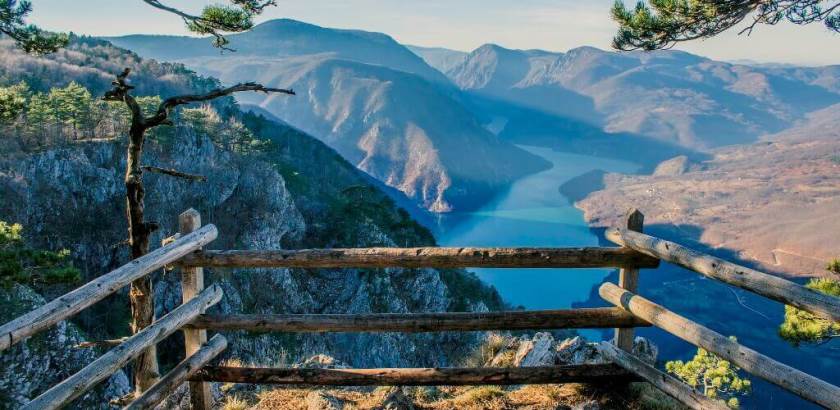 Tara NP is situated on Bajina Bašta territory, western Serbia. It was proclaimed as national park on July 31st 1981, having the area of 19.175ha, and the territory has been widened since October 5th 2015 and now it covers 25.000ha. .
Tara mountain is abundant with canyons and gorges which carved small rivers such as Beli Rzav, Rača, Derventa and there are other forms of terrain as well-karst sink holes, caves and valleys. Because of that many shelters were created in which very rich flora and fauna population has been saved. Great heterogeneity of terrain, diversity of geological structure, wet climate and a warm limestone habitat caused creating many forest ecosystems, which are of complex combination with many relict and endemic species. These represent real natural rarities. The most interesting endemic-relict representative of Tara NP is Pančićeva omorika (Picea omorika or Serbian spruce). There are fir, spuca, pine and deciduous trees such as aspen, maple, birch, beech. There are 53 kinds of mammals, 153 kinds of birds. Brown bear, bighorn, doe are under special protection on Tara mountain.
---
Tara is getting more popular for hiking, with tendency of becoming a hiking center not only for western Serbia but for the whole region as well. Hiking on Tara is an ideal way to expirience its spirit. Hiking tracks lead us across the entire mountain, trough thick forests, sunny pastures and meadows to viewpoints which take every visitor's breath away. You can start a hiking adventure with us and visit the most beautiful places of our Tara..
Tara Hiking Adventure
Content:
Predov Krst – Veliki Stolac
We can start this hiking tour from the forest center on Predov krst, which is the longer way, and if you are out of shape we can use a vehicle for a few kilometers. The first part of the track is along a wide forest road and after 3.5km we arrive on Sjenič viewpoint. Here we make a break and enjoy the view of massifs of Mitrovac and Zvijezda, down the valley, all way to the Perućac lake, ie. its bay Derventa. We continue our hike towards Kapetanova Voda and over the territorial border between Serbia and Bosnia and Herzegovina. The ascent to the top Veliki Stolac is in front of us. It is a plateau on the mere top of Tara mountain, covered with thick mountain grass, so we can cosily settle down and enjoy breathtaking view, if the weather conditions are good. In the distance, above Višegrad, following Drina river, we can see Durmitor and Maglić, the highest tops of Montenegro and BH.
---
Track length: 8.6km
Cumulative ascent: 720m
Hiking difficulty: 4/10
Technical difficulty: 2/10
Altitude of the starting point: 1085m
Altitude of the arriving point: 1675m
Anticipated time of hiking in one direction: 3h 20min
---
Mitrovac – Banjska stena
Tara hiking tour from Mitrovac to Banjska stena is surely the most favourite among visitors. The reason is the most amazing viewpoint of western Serbia, Banjska stena. We start the hiking tour in front of the Children's resort "Mitrovac", and we have two options, ie. two hiking tracks categorized as 9 and 9a. The first one takes us along the forest road from Mitrovac to Banjska stena, and the second one takes us across hidden pastures surrounded by thick coniferous forest. Yet, if you come with us we choose the best for you so we take you on the circuit where we follow the 9a track towards Banjska stena, and on the way back we use the easier track 9. After Mitrovac we follow the track towards Velika Livada and then on a narrow path we enter a thick forest, where forest roads alternate with narrow forest paths until we reach the first viewpoint. We reach Banjska stena from north-west side, and from the forest we arrive on a clearing and a cliff. Our view spreads on the beautiful landscape of the Perućac lake and mountains on the left bank of Drina river and it gets lost in the vast greenery and pastures. We make a long break and on the way back we take a forest road all the way to Mitrovac.
---
Track length: 6.2km
Cumulative ascent: 200m
Hiking difficulty: 2/10
Technical difficulty: 3/10
Altitude of the starting point: 1070m
Altitude of the arriving point: 1065m
Anticipated time of hiking in one direction: 2h
---
Kaludjerske bare - Rača Monastery
This Tara hiking tour is one of the most interesting, because on its way we visit the amazing viewpoint Crnjeskovo. From there, we can see the canyon and Rača gorge and the whole area to Bajina Bašta and Drina river. After that we continue our hike through beech forest which is full of huge old trees, until we reach the first village. We come to the crossroads, and we go left towards Ladjevac spring, a great place for refreshing and some visitors even take a swim in hot sunny days. After the spring we follow Rača river on its left bank, walking on a forest path, until we come to Rača monastery. Monastery itself is a pearl of our culture and tradition, and it dates from the 13th century.
---
Note:This hiking tour is possible to accomplish in both directions, yet the direction from Rača monastery towards Kaludjerske bare is at least twice as difficult.
Track length: 6.5km
Cumulative ascent: 100m, 790m
Hiking difficulty: 2/10, 5/10
Technical difficulty: 4/10
Altitude of the starting point: 1040m
Altitude of the arriving point: 1350m
Anticipated time of hiking in one direction: 3h
---
Additional notes:
Necessary personal equipment: backpack, hiking boots, layered clothes
Galerija: