Uvac kayaking adventure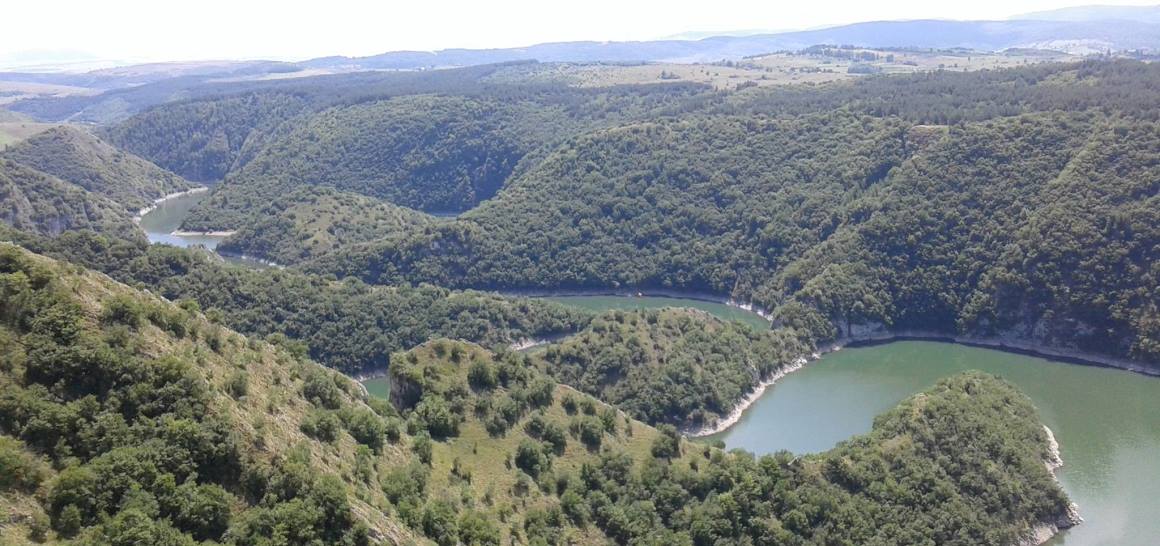 Uvac kayak tour
Uvac kayaking adventure - Is an ideal opportunity for passing with kayak through beautiful Uvac meanders, paddle through a cave, swim in a lake and visit one of the most beautiful viewpoints in Serbia, all under the watchful eye of our largest birds - the griffon vulture.
Uvac is one of the most beautiful and most visited destinations in Serbia. The reasons are numerous. The basic value and uniqueness of this area makes the presence and breeding of the rare and very few species of vulture - the griffon vulture, in some parts of the gorge, on the rocks, and numerous caves above the water. In order to protect this species, the area around the gorge of the river Uvac, as the habitat of griffon vulture, is declared the special nature reservation.
About four decades ago, in the canyon, which for centuries deepened the Uvac river on its 115-kilometer-long road from Pester to Lim valley, formed three reservoirs - Uvac, Zlatar and Radoinjsko lake. Although the construction of the three artificial lakes immersed part of the canyon, givining the whole landscape a new look, the gorge of the river Uvac is still vivid, and it's beauty takes breath away even from those who have seen enough of the world's various wonders of nature. Today, through the picturesque canyon of Uvac near Nova Varos, on foot, by bicycles and boats, go many nature lovers.
---
The Content:
We offer you a really attractive way to contemplate from a totally different perspective on the beauty of this canyon, and it's kayaking. In stable inflatable kayaks, which are very suitable for people with no previous experience, there are seats for 2 people who, with their own power, drive the boat. Since it is a lake, power is not crucial. Uvac kayaking adventure includes 12km of beautiful canyon, we enter the cave with kayaks, we can take a swim in the limestone banks of the lake, but we can also climb the most famous viewpoint "Prayer", which is just 2km walking from the lake.
The Program (itinerary):
-10h going out on the water, moving towards the meanders of the cave. After 2h we reach the cave, it is possible to swim inside the cave and then light return 1km back to hiking trails of the viewpoint "Prayer". Climbing on the viewpoint, break cca 30 min, returning back to the kayaks and rowing back to the camp. Estimated completion of the Uvac kayak tour is between 17-18h.
---
Informations:
Two-day adventure
12km kayaking
4km trekking
Min 4 persons
Gallery: